Some of Our Cars & Projects
The engine in every car on this page has or will have a camshaft that we've designed.
This is the one that started it all - Dad's (Grandpa's) Model T. It must be something in the DNA. He was James Tilden Young, the source of our business name. This one is stock except for a high compression head and the Stipe 280 cam that we designed in the Cam Project.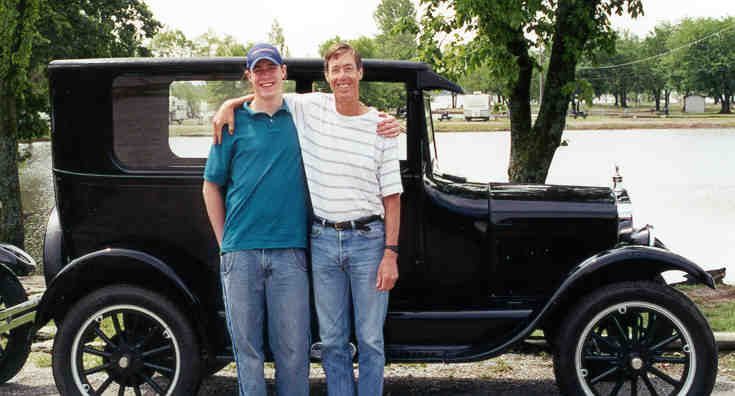 Here is our vintage race Triumph TR3A. We were not satisfied with the performance cams available, so designed our own cam using the methods described on the Technical pages. It soon caught on with other TR3/4 vintage racers, who are now running it. This car has now been sold. Click on image to enlarge.
Here is our number one project. It's a Model T that will go. The body is an original 1923 mail order body made by the Automotive Body Co. (ABC) in Chicago. The engine sports a Rajo OHV, stroked to 4 1/4 inches (Model A Crank), full pressure oiling, Winfield model M carburetor, American Bosch front plate distributor and a cam we designed. It currently has a Stipe 280 cam from the Cam Project, but we will soon install one that is more suitable for a flexible OHV conversion. This is a poor man's Buggati, thus it's Buggati blue paint job. Click on photo to enlarge. More information is available at our ABC project site.
This is another one of our projects, a 1940 Ford pickup. It was to be Tom's high school car, but we didn't get it done in time. The engine block is a 59AB and is shown after our mild port and relief job. It will get a Merc crank offset ground for 4 1/8 stroke, bored 1/8 over, Skat H-beam rods, Offy finned aluminum high compression heads and two deuce carbs and manifold. Originally, we purchased a 3/4 race cam from a name brand manufacturer. When we degreed it, we discovered it was not as advertised - another lazy slow opening cam. So, the pickup will get our own Tilden V8 220 cam - 249 degrees seat-to-seat, 220 degrees at 0.050 and 0.360 lift. It has a quick opening with lots of lift, and not too much duration. Click on photos to enlarge.
This Triumph TR250 is soon to be restored. This was Larry's first car, purchased when new and picked up at the factory in Coventry. It spent it's first 10,000 miles running around Europe. A dream holiday for two college kids. It was the get away car in both Larry's and Tom's wedding. This engine was severely detuned to meet emission standards. We'll design a cam for it that will undetune it.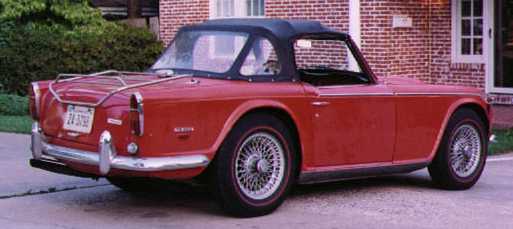 If you're into old Ford and British cars, then this is the car for you. It's a 1948 Allard M-1 drophead coupe. Originally, we bought an M-1 project to restore, but then we found this nice restored car. The original project is for sale. This Allard has many mechanical components in common with the English Ford PIlot. The engine was made at the Ford factory in Dagenham England. Even though it was made in 1948, it has a 21 stud flathead with water pumps in the block (like a 1937 US Ford). This engine is stock. We would like to build an engine similar to the one for the pickup project. Click photo to enlarge.